New 08 F450, DPF delete but still "cleaning exhaust filter"?
---
Hey all, I just traded my Raptor in for a 2008 F450 King Ranch today. I love the F450 so far, and noticed before I even left the dealer, that it had a "straight pipe" from the downpipe back. After looking online, I now realize that it has a cat and DPF delete kit. I test drove the truck and made sure it ran good before buying (and it runs noticeably stronger than another F450 I test drove with the factory exhaust). After purchasing the truck, I made it about 5 miles from the dealer before I noticed the truck started slightly smoking. Within the next couple miles it got to the point that it was just smoking everyone behind me out and people were shaking their heads and making gestures while passing me...I called the dealer and they asked me to bring the truck back Monday morning so they could repair it. Well a few hours later when I went to take the truck to dinner, I noticed the "Cleaning Exhaust Filter" message on the dash. Now since I have the DPF delete kit and the truck seems to be in "regen" mode if I understand this process correctly, I assume that a stock tune has been flashed on the PCM which is incompatible with the delete kit? My next question is, am I correct in assuming that the only way to fix this is to order a DPF delete capable tuner, or should I first check and make sure all the exhaust sensors are unplugged and try resetting the PCM? Any help is appreciated as I don't want the dealer to reinstall a factory exhaust come Monday morning to "fix" the issue. Thanks again all and its good to be back in a Powerstroke after my several year hiatus.
---
-Mike Chapman
Senior Member
Join Date: Oct 2007
Location: Leesburg, VA
Posts: 464
Feedback Score: 0 reviews
You need a tuner unless you want the DPF back on.

Dealer should take care of it one way or the other since they sold you the truck.
---
Knucklehead Bald Guy
2005 Excursion 6.0
Senior Member
Join Date: Jul 2002
Posts: 3,664
Feedback Score: 0 reviews
Yep, sounds like the previous owner did the delete, turned it and then at some point traded it in. The dealer went though it and updated the firmware on the computer which made the truck regen'able again. From my experience the trucks always regens with in 50 miles after a firmware update. Most likely the dealer will put the dpf and cat back on and imho you should let them. Then you can redo the delete and keep the parts you remove. You do not really know at what point they will start doing emissions testing on diesels. Since they do it in California at some point the rest of the country will do the same... Having the parts means you can put them back if you need to... Don't drive it around in regen. It is extremely hard on the turbo and cylinder #8 (my egts push 1200F during regen...).
Thanks for the info guys. I should have mentioned I am also getting a P2452 code (Diesel Particulate Filter Pressure Sensor A) which led me to wonder if the dealer had plugged the sensors back in which I read can trip up an aftermarket tune sometimes...but I guess since Im getting the exhaust cleaning message that they did in fact reflash it. I honestly dont want them to swap the exhaust and since I get the friends and family deal because of a friend who is a GM at another dealer in the autogroup, I dont want to be any more of a hassle than I have to. My 2010 Raptor had 44,000 miles and they gave me $40k for it (I paid $44k for it 2 years ago) and I only paid $33k out the door for the fully loaded 2008 F450 King Ranch with nav and new front tires with 60k miles. Will keep you guys updated but I think I am gonna find a tuner. Thanks again!
---
-Mike Chapman
Senior Member
Join Date: Apr 1999
Location: Justin,Texas, Republic of TEXAS (USA)
Posts: 5,030
Feedback Score: 0 reviews
I think not being a hassle is not going to happen.
They have an illegal truck they have sold and worked on and if they are not blind they could not have missed that it is not legal.
They are stuck. They can give you money back and take truck back and sell it in Mexico at a great loss or you keep it and they add the pieces back and probably suffer great loss.
Buying at auction or taking trades of late model diesel vehicles w/o looking under them and knowing what you should see is STUPID. I think the Used Car Dept gets to eat a big bill.
---
2006 F450 CC Hauler bed 4x2 6.0 L 6.0 auto, Lariat, 4.30 r/a, SCT, 4in exh. 103K New heads to repair diesel in coolant, 136K.
2006 F350 Lariat CC Dually 4X2, 6.0 auto 4.10 LS, SCT, airbags, 4 in. exh. 147K Rebuilt engine to repair damage from burned piston. One head to fix fuel in oil problem.
2002 F350 CC DRW flatbed (originally pickup bedded) rebuilt & upgraded 4R100
36 feet on the floor Elite/Outlaw LQ horse trailer.
35+5 foot double tandem axle flatbed trailer.
36 foot double tandem axle flatbed trailer
36 foot Platinum 6 horse LQ, side load, full width back tack
2003 EB Expedition 164K (no engine repairs, gas burners are the new longevity leaders)
2004 Volvo V70R AWD-high miler in fleet, 241K (no engine repairs)
2007 BMW 550i 6MT 146K, Stuff breaking all the time that would last twice as long on a Kia or Hyundai, sad. Drives great though.
Suzuki Carry KEI truck, 660cc 3 cyl DOHC EFI 4X4 5 speed RHD. Sort of a Smart Car sized pickup. Eats Gators and Mules for lunch.
Senior Member
Join Date: Sep 2005
Location: Abbotsford, BC
Posts: 185
Feedback Score: 0 reviews
BC Diesel
---
I agree the dealership can not sell the truck that way but that is the way you want is. I am all for a greener environment but at what cost. The DPF is a bad thing on the 08-10. Look into an
H&S Mini Maxx
or
Spartan Tuner
and you will get much better fuel economy and your crank case will not fill up with fuel.
do your research... google search 6.4L DPF Delete
Dave
---
[CENTER]Dave Dias[B][COLOR=Green]
Senior Member
Join Date: Jul 2002
Posts: 3,664
Feedback Score: 0 reviews
Quote:
Thanks for the info guys. I should have mentioned I am also getting a P2452 code (Diesel Particulate Filter Pressure Sensor A) which led me to wonder if the dealer had plugged the sensors back in which I read can trip up an aftermarket tune sometimes...
There you go. Try not to drive it until you can take care of it. I don't have a delete on my truck but see if by chance if there are any markings on the delete pipe. If not then take a very good look at it and see if you can match it, if so then maybe you can get just the tuner. In the end you may end up buying the whole kit. What ever you do, do it quickly. You don't want it in regen for extended periods of time. The regen process is not a good process...it is not good for the truck, not good for your wallet and not good for the environment. Nothing wrong with taking care of it yourself.
Thanks for the info everyone. Here are some pics of the exhaust and a misc plug up by the passenger side headlight that I couldnt figure out what it was? Does anyone recognize the plug or the exhaust for that matter? Is this the factory downpipe?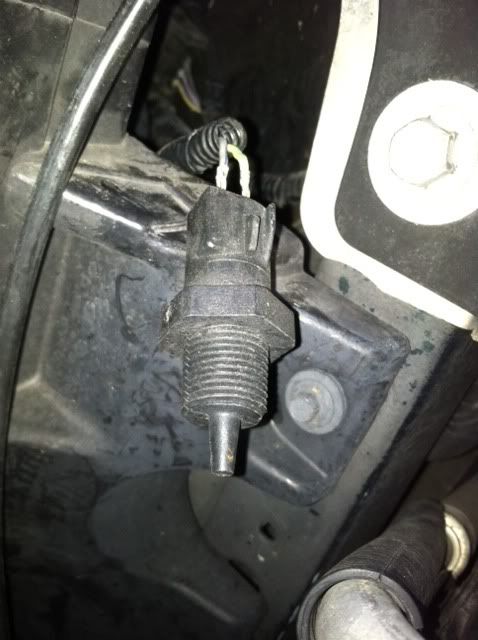 ---
-Mike Chapman
Senior Member
Join Date: Jul 2009
Location: maryland
Posts: 4,742
Feedback Score: 0 reviews
that item by the headlight is a sensor for your temp I'd say...nothing to do with the exhaust system at all.

Pics look like no cat or dpf.

Personally I'd take it back like a couple have advised. Simply because later on down the road if you sell it they may not take it on trade...or if you have warranty work needed or emissions testing comes into play.

Just have them give you the straigt pipe so you can put it back on later when you get a tuner.
---
08F250 CC 6.4 PSD
Banks 6 gun/ram air
40' Stoneridge 5th wheel, coming in at 15.4K.
Senior Member
Join Date: Feb 2008
Location: So. California
Posts: 1,320
Feedback Score: 0 reviews
Quote:
For me, Right, would be a truck that doesn't regen and gets respectable mileage and pulls the crap out of whatever I hook to it. That would mean providing one of our SCT LiveWire Flash tuners that will shut down the Regen, fix the EGR system and get the tranny to shift properly. This would be a SIGNIFICANTLY less expensive option.

If the stars and the moon align and they actually do go that route, make sure that they wave any warranty denials due to the installation of said tuner for a certain time period.
Keep in mind, as nice as that would be it would also mean the dealer would have to support it. Since Ford in general doesn't sanction the use of tuners, you could end up getting denied warranty claims if warranty is still available. Then it will cost the dealer even more because they provided the tuner instead of returning it to stock.
---
Shaun
'08 F250 6.4L Lariat 4x4 CC/SRW fully loaded, special ordered
6" Fabtech 2.25 dual shock lift w/18" AR wheels, 35" Toyo AT
Avic-Z2 (Z3 Mod) Nav/Stereo w/iPod, Bluetooth, XM NavTraffic
(2) Rear headrest mnt DVD entertainment systems
Line-X bedliner
Banks CAI, Dual Exhaust, 6-Gun, Speed Brake & iQ (test vehicle)
Bushwacker Fender Flares (color matched)
Ravelco Anti Theft Device
Quote:
Originally Posted by George Bush
Wait, what did you just say? You're predicting $4 a gallon gasoline?. . . That's interesting. I hadn't heard that.
Currently Active Users Viewing This Thread: 1

(0 members and 1 guests)