Senior Member
Join Date: Jun 2011
Location: Bend, Or.
Posts: 532
Feedback Score: 0 reviews
First oil change at 5100 miles
---
It was very, very simple, just like an oil change should be. I did drive it onto a small wooden ramp that I screwed together. It seems that as the years go by, they make the rigs closer to the ground. Anymore, I have such a hard time rolling under them.
So the ramps got the front tires up about 3 inches which was enough room to do everything. I went in from behind the drivers side tire with my drain pan. The plug takes a 13 MM wrench. I loosened it and as I was screwing it out, there was more resistance than there should have been, until I noticed that the sealing Oring was stuck to the pan and I was threading it through that. Since I know that Murphy is always lurkingand I didn't want the Oring to fall into the oil pan as soon as I pulled, the plug, I worked it loose so it would come of when -I- wanted it to.
The oil filter was close enough that once the initial gush of oil was over, I could slide the pan over and continue to catch that oil while also catching the oil from the oil filter. Apparently, at the South Africa plant where they build the engines, they don't believe in putting any lube on the oil filter seal because it squeaked like it was dry. I am using the NAPA Gold oil filter number 7502.
Here is a picture of everything under there: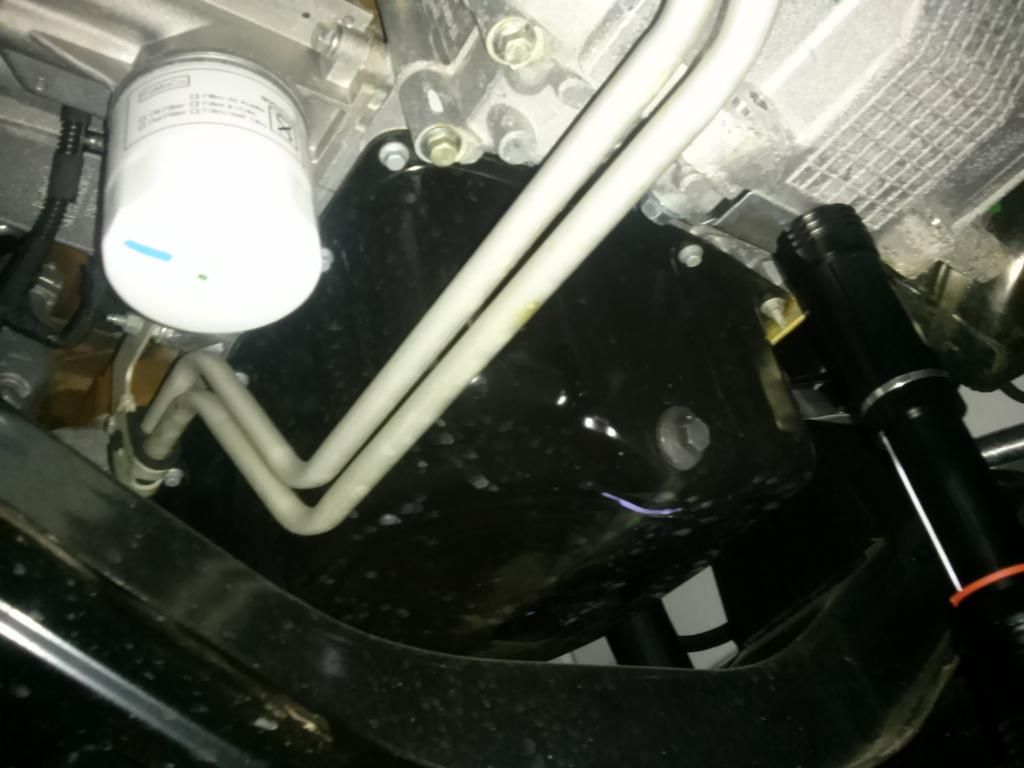 Put everything back together and tighten the drain plug and it's back on top to fill the oil. I am using Rotella T6 in this and it takes 3 gallons. One thing that I was careful of is filling the oil. Normally, I just pour it in unaided, but with that funky, flexible engine cover thingie, I decided to use a funnel. I happened to have the perfect funnel for the job. It is a Flo Tool Big mouth Funnel Part # 10713. It fit in the fill hole snugly so it wouldn't flop over as I was filling it, it is short enough that I don't have to reach up high to pour in the oil, and it has a big mouth so it fills quickly without having to feather it in to avoid spillage.
I then checked the oil level before starting it. Yes, I do this every time I change the oil. Even though I just put the oil in, I pull the dipstick and make sure I didn't do something stupid like forget to put the plug in. Not that I have ever done that (this week) but it's just a good habit. Then it's into the drivers seat, turn on the key and start the engine. I then watch to be sure the oil light goes off within 10 seconds, back it off of the ramps and shut it down.
I let it sit for a few minutes and recheck the oil. Perfect level, so I note the mileage, put it in the maintenance book, figure when the next LOF will be (at 10,000 miles, then every 10,000 after that) and put that in my book and on a window sticker and I'm done.
The only heartache I had was that the oil drips onto the crossmember as the drain pan finishes draining and as it comes out of the filter. I am thinking about something I have seen someplace. It's a flexible, moldable plastic thing that will drape over the cross member and direct the oil where I want it to go.
Of course there is more to servicing the van than just changing the oil and filter. There are level checks, brake checks, tire checks, light checks. Yeah. Alot of other stuff that I do while the oil is draining.
I will be changing the fuel filter at the next LOF and I will determine if I can go to 20,000 mile interval. With the small amount of fuel that this thing uses, I bet 20,000 will be just fine.
---
2, 2007.5 LMM C5500 passenger buses each travelling 100,000 highway miles a year, as of December 2014, each over 700,000 miles.
1, 2006 C5500 passenger bus, with a reman engine at 425,024 miles on 28 Sep 2014.
1, 2013 Freightliner M2 chassis/Cummins 6.7 ISB passenger bus travelling 100000 mountain miles per year.
2, 2010 Ford F650 buses with Cummins engines, each at about 300,000 miles.
1, 2015 Ford Transit 11 passenger wagon with the Powerstroke 5 cyl engine traveling about 125,000 miles per year.
The bane of my existence: A 2006 Sprinter.
And a bunch of stupid minivans.
Junior Member
Join Date: Jun 2018
Location: Allapattah
Posts: 9
Feedback Score: 0 reviews
Looks very nice and easy to get to. It's too bad that more Transits don't come with diesel engines. This is one of the first vehicles I've ever driven in my life with an engine made in Africa. I wonder why Ford and GM just don't go and pick a state and city with an extreme low cost of living and then put a plant there and then hire surrounding people who can afford to work cheap to assemble the engines? Some place like parts of Mississippi, Georgia or north Florida? They couldn't assemble engines in those places?
Currently Active Users Viewing This Thread: 1

(0 members and 1 guests)