Discussion Starter
·
#1
·
Hello. I am new to the forum and also new to diesel engines in general. This was my 1st diesel truck purchase and absolutely love it! Not sure I will ever be able to go back to a gas engine again! I bought a 2012 Ford F350 6.7L B20 - 4 Dr/Crew 50K miles. The truck already had the Stealth off-road package from Top Gun Customs in TN. Has the 6" Black Ops suspension with 37X12.50X20 wheels/tires. When I bought the truck about 3 months ago the 1st 3-4K miles i was getting about 14.6 mpg and on the interstate, 13.5 mpg around town and 12.7 mpg towing my trailer across the state of TN. I decided it was time to change the oil / oil filter last week. I put in Mobil Delvac 1 ESP 5W40. I do a lot of towing in the winter between TN and AR. Used the Ford MotoCraft FL-2051S. I also used 1 qt of the Lucas Synthetic Oil Stabilizer.
I have now driven about 2K miles since my oil change and I have a noticeable decrease in gas mileage. I am now seeing about about 13 mpg on the interstate, 12.1 mpg around town and 11.4 mpg towing my trailer across the state. I am now seeing an average of 10% worse gas mileage!
So to be clear, I am a complete newbie to the diesel world. I have always maintained my gas engines normal maintenance on my own and always used Mobile 1 Full Syn and had great luck which is why I decided to stick with Mobile 1. I did my reading and research on the 2012 Ford Powerstroke before changing my oil and seemed to be pretty straight forward other than it likes to drink a LOT more oil than my old gas trucks!
Any advice anyone could give me or previous discussion threads you could point me to read up on would be greatly appreciated! I am at a loss. Cannot figure out why my gas mileage took a 10% hit after changing my oil.
Heres a few pics: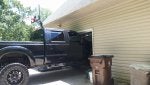 Thanks!