Discussion Starter
·
#1
·
Hello all,
I'm new to the diesl forum and writing on behalf of my son who recently bought an '85 F-250 6.9 IDI...I've been an '03 7.3 powerstroke owner (1st diesel) for about a year myself, so I'm afraid my knowledge is very limited.
He was driving down the road the other day when his truck lost all power suddenly. I'm assuming this is a fuel issue, since his batteries are fully charged and he has no problem cranking the engine over. It appears the previous owner replaced the fuel injection pump within the past year...see pic below: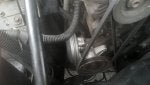 Q: Where to begin troubleshoot?
All feedback welcomed and appreciated...thanks.