Discussion Starter
•
#1
•
It has been leaking for a long time but I can never find the source until possibly today. The water comes in at the corner behind the parking brake cable. I spent hours running a hose in very specific locations and have ruled out the windshield gasket and everything having to do with the passenger side. I removed the cowlings and cleaned out every bit of debris from all the nook and crannies of the drainage channels.
When I ran the hose into the driver side of the drain channel & cowling, some water was taking a detour: clinging to the underside of the channel where it dumps in to the left front quarter panel. Then it sorta wicks into that seam behind the fuse box then appears inside the cab in that corner above where the parking brake cable goes through.
The problem is: I cant access where it needs to be sealed! I tried to remove the plastic fender-well of the front tire, but its way too form fitted and stiff even with all the screws and retainers out. There is a slim chance I can reach it through the gap in the door frame, but it looks really tight even if I remove the door.
Any suggestions??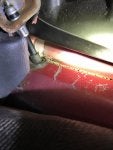 This is where the water comes into the cab. Far upper left corner of driver side floor. Pull back carpet & lift up rubber.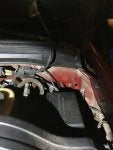 This is the engine bay view. Water clings to underside just above that "hole" where cowling channel meets quarter panel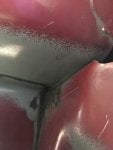 This is a closer view from engine side, behind fuse box. I pulled off a rotted chunk of spray foam gasket and it had rust chunks in it. Entry point!
It needs to be sealed from the inside of this corner so the water can't wick through the old spongy gasket.
Clear as mud?😁