Discussion Starter
·
#1
·
Hey guys, been browsing the forum off and own for a long time, but never posted here.
I've just pulled and rebuilt the oil cooler on my 99 F-250 7.3L due to the common leak when cold at the front header. Overall, things were very clean inside - nothing like some of the pics I've seen. Just a few small pieces of what appeared to be silicon in the tubes, which was easily cleaned out.
What's a little disturbing is some broken metal parts I found inside. Can someone help me identify what this is?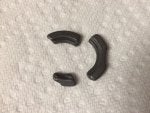 One piece was stuck in one of the coolant tubes and the others were floating around in the rear header. Appears to have been in there for a long time based on all the erosion and smoothed edges. I'm hoping it's part of an old failed water pump or something, but it's a little concerning. I bought this truck in 2004 with 160k miles and it currently has 307k. I've replaced the water pump once in that time, and this is the first time removing the oil cooler.
Other than that, things look great inside: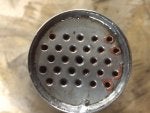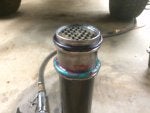 Thanks in advance for any help you guys can provide!