Discussion Starter
·
#1
·
Well this past month I took on a project for myself and I would like to share the results with everyone. I have no clue if I'm posting this is the right forum but oh well!
After 13 years of Michigan and Ohio salt filled winters, my bed inevitably rusted out and was beyond the point of salvage. I did not want to go through the hassle of buying, shipping, and installing a new bed, so I did the next best thing in my opinion. I built a solid wooden bed from pressure treated lumber.
The before:
You can see the amount of rust throughout the bed. The mounting bolts were barely holding on. The supporting bars were gone as well underneath. It was a running joke that the bedliner was the only thing supportive about the bed... not too far from the truth.
The during: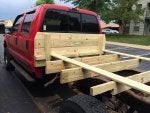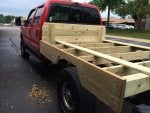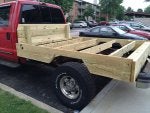 The sub structure is made up of 2 4"x6" at both ends that are bolted down with 6" long grade 8, 1/2" diameter bolts. I got lucky and the frame rail has plenty of holes to bolt everything down. Between are 2"x6"s that are bolted down as well. The trick was since the frame rail is not a flat surface, I had to shim up the supports with ripped 2"x6"s. Once all the cross members were bolted down, I tied them all together with a 2"x12" which had a cut-out for the rear wheels. The panel closest to the cab of the truck is mounted and not removable. It is made up of 3 5/4"x6" running the length. It just so happened to fit nicely under the rear window. During construction of the sub structure, I also included mounts for 2"x4"s to run up from underneath so that I could build removable sides.