Guess this in a trans rebuild/upgrade thread with specific questions for anyone who has done performance builds of one. I did a mostly stock rebuild (transtar single disk, machined center, transgo) and my injectors are wounding it, so I'm building the extra trans I got. Am on 37s, tow 10K +, and am sick of being worried about it breaking.
So these are my questions/verification about what I'm doing so far with machining. I've got more pics I'll post next.
Output shaft endplay is at .060. I've read more like .020 is good....so how much does it matter and whats the proper way to reduce? ATSG doesn't even mention checking it. Only thing I can see is pressing the park gear forward on the shaft slightly but not sure that's possible, or stacking shims under 1 of the 2 bearings.
Adding an extra disk to the direct clutch. For the reverse and forward I turned a step into the edge of the thick plate for the snap ring to get correct clearance. Direct it appears if I do that again the thick plate will be too high and contact the forward drum??
OD - just machine a step again in the thick plate? Rough measurement is it'd need about a .100 step. Plate is .300" Any strength issue doing that?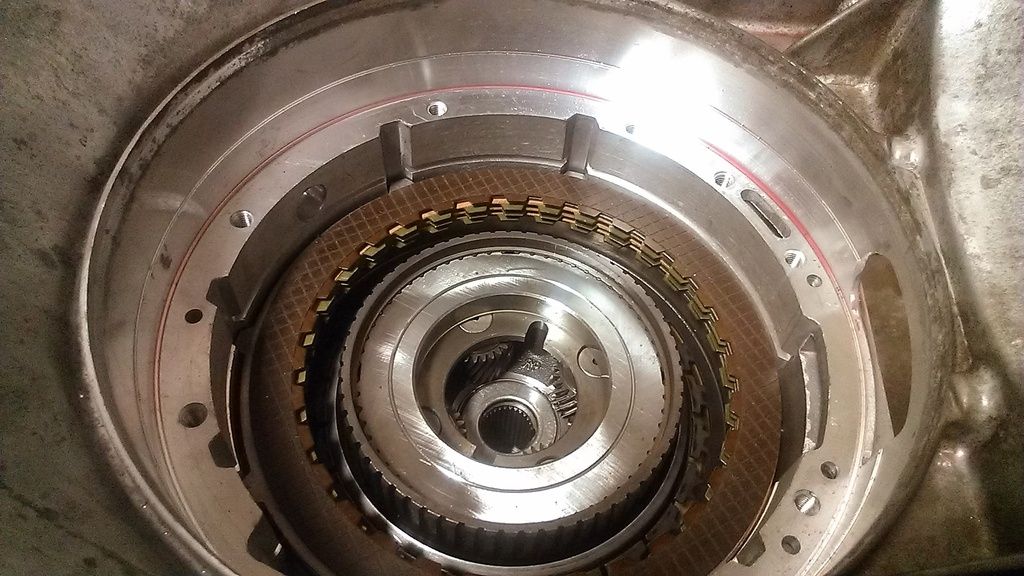 Rear planetary with torringtons...anyone got a pic of about how deep each pocket is machined? Am guessing the pins are hardened and not sure if a carbide bit will be able to machine into them. But my stack clearance to center support is .065 so I don't think I really need to go overly deep since I'd like to tighten that up.